LG Chem to Establish Largest Cathode Plant in US for EV Batteries
-LG Chem signs MOU to invest more than USD 3 billion to build cathode manufacturing facility in Clarksville, Tennessee, the largest in the U.S.
-Target annual output of 120,000 tons of cathode material by 2027 enough to power 1.2 million high-performance electric vehicles
-Facility key to company's sustainable battery material business to meet increase in global demand for electric vehicles, operating on 100% renewable energy and smart factory technology for superior quality management and manufacturing processes
SEOUL, Nov. 22, 2022 – LG Chem today announced the signing of a memorandum of understanding (MOU) with the state of Tennessee to establish a new cathode manufacturing facility in Clarksville with an investment of more than USD 3 billion.
The new plant in Clarksville, Tennessee will be the largest of its kind in the United States, covering 420 acres with a production target of 120,000 tons of cathode material annually by 2027 to power batteries in 1.2 million pure electric vehicles with a range of 310 miles (500 km) per charge. Construction of the plant will begin in the first quarter of next year with mass production to start in the second half of 2025. The Tennessee site will play a critical role in LG Chem's strategy to increase its battery materials business including cathode material fourfold from KRW 5 trillion in 2022 to KRW 20 trillion by 2027.
The signing ceremony was attended by Tennessee Governor Bill Lee, Department of Economic and Community Development Commissioner Stuart McWhorter and LG Chem CEO Shin Hak-Cheol, among others.
For LG Chem, Tennessee was the best choice due to its proximity to key customers, ease of transporting raw materials and active cooperation of the state and local governments. The Tennessee facility allows LG Chem to proactively address the changing dynamics of the global battery material market and with legislation such as the Inflation Reduction Act (IRA). In addition to the benefits realized by investing in manufacturing on U.S. soil, LG Chem envisions the Tennessee site being the supply chain hub where material and recycling partners work together to supply global customers.
The new facility will produce advanced NCMA cathode materials containing nickel, cobalt, manganese and aluminum for next-generation EV batteries with improved battery capacity and stability. NCMA cathode materials are among the most critical ingredients for determining the battery capacity and life of electric vehicles. The Tennessee plant will feature LG Chem's most advanced production technology including the ability to produce more than 10,000 tons of cathode material per line, the industry's highest. LG Chem applied this technology for the first time to its fourth cathode manufacturing site in Cheongju, South Korea with much success. The company also plans to implement its smart factory technology in Tennessee to automate the entire production process and establish a quality analysis and control system that will be the benchmark for all other cathode plants in the world.
The new facility will be designed with the environment and future needs of clean energy in mind. LG Chem will collaborate with power suppliers in Tennessee to respond to the demands of customers, including battery and electric vehicle manufacturers, for more renewable energy sources. Operation of the new facility will rely completely on renewable energy provided by solar and hydroelectric power.
"LG Chem's decision to invest USD 3.2 billion in Clarksville is a testament to Tennessee's unmatched business climate, skilled workforce and position as a leader in the automotive industry," said Tennessee Governor Lee. "I thank this company for creating more than 850 new jobs to provide opportunity to Tennesseans across Montgomery County."
Commissioner McWhorter said, "This is a big win for Tennessee and Montgomery County. LG Chem's decision to locate its new cathode manufacturing facility in Clarksville underscores Tennessee's growing profile as a hub for U.S. and global companies. As we continue our efforts to attract companies in the automotive industry, we are focused on supporting companies that boost Tennessee's presence in the EV space. I appreciate LG Chem for its substantial investment in Clarksville and look forward to building a successful partnership with the company in the years ahead."
"The new cathode manufacturing facility in Tennessee brings us one step closer to becoming the world's best battery materials manufacturer and fulfilling our corporate vision to become a top global science company," said CEO Shin of LG Chem. "This site will be the North American manufacturing center of excellence for the cathode supply chain and lead to the creation of many well-paying jobs, contributing to the local economy in Clarksville."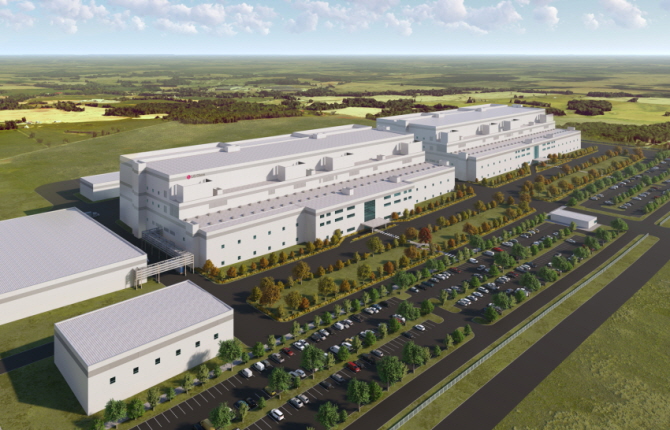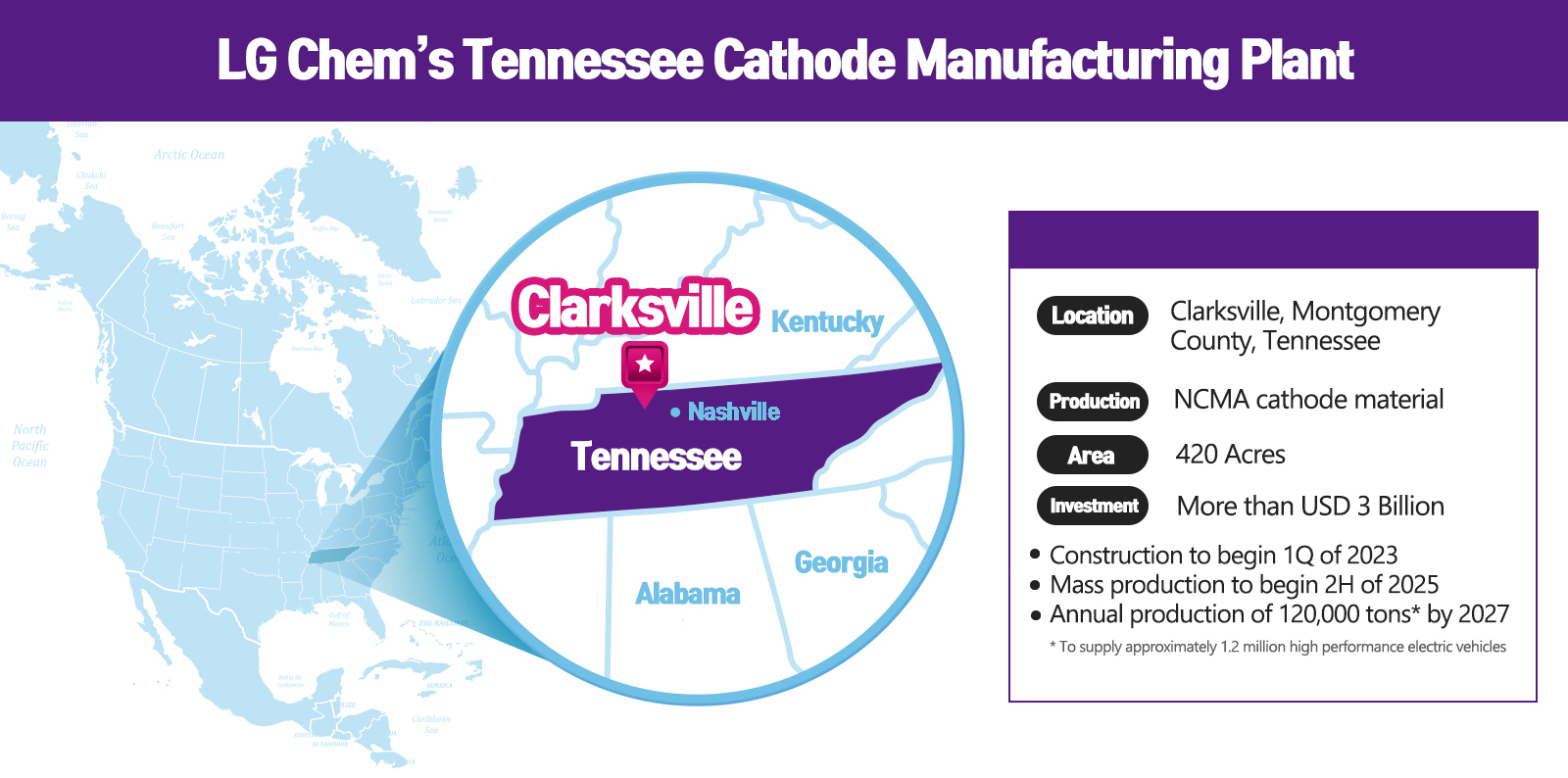 LG Chem Cautionary Note Regarding Forward-Looking Statements
This press release and related comments may include "forward-looking statements." Forward-looking statements are any statements other than statements of historical fact. Forward-looking statements represent our current judgement about possible future events and are often identified by words such as "aim," "anticipate," "appears," "approximately," "believe," "continue," "could," "designed," "effect," "estimate," "evaluate," "expect," "forecast," "goal," "initiative," "intend," "may," "objective," "outlook," "plan," "potential," "priorities," "project," "pursue," "seek," "should," "target," "when," "will," "would," or the negative of any of those words or similar expressions. In making these statements, we rely upon assumptions and analysis based on our experience and perception of historical trends, current conditions, and expected future developments, as well as other factors we consider appropriate under the circumstances. We believe these judgements are reasonable, but these statements are not guarantees of any future events or financial results, and actual results may differ materially due to a variety of important factors. We caution readers not to place undue reliance on forward-looking statements. Forward-looking statements speak only as of the date they are made, and we undertake no obligation to update publicly or otherwise revise any forward-looking statements, whether as a result of new information, future events, or other factors that affect the subject of these statements.
Source: News Room | PR Center | Company | LG Chem